Mission
To provide an environment in which tamariki have a strong sense of belonging, their play is valued and they are encouraged to guide their own learning pathways.  We empower tamariki through offering them opportunities to make decisions and solve problems.  We respectfully encourage their independence and self-esteem, allowing them to develop a strong identity and shine as individuals.  Te reo Māori and tikanga Māori are an integral part of our teaching and learning.  Our decisions are always based on what is best for the tamariki in our care.

---
Purpose
To provide a loving, positive and inclusive learning environment for the tamariki.  To ensure tamariki have a strong sense of belonging by listening, caring and showing respect in all we do.  To create strong partnerships with whānau.  To encourage passionate, reflective kaiako who are continually developing their practice and are committed to providing high quality care and education for tamariki.  To demonstrate our commitment to Te Tiriti o Waitangi partnership.
---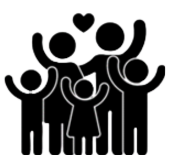 WHANAUNGATANGA
Respectful and trusting relationships create whānau connections and a strong sense of belonging for all.  Maintaining and strengthening relationships ensures tamariki are valued and their differences celebrated.
PLAY
The importance of play as a vehicle for learning is respected, encouraged and extended through intentional teaching. The tamariki lead their individual learning pathways in partnership with kaiako & whānau.
AROHA
A culture of aroha, compassion and unity connects our Midcity whānau.
Through Manaakitanga we support, encourage and care for others.
PARTNERSHIPS WITH WHĀNAU
Kaiako and tamariki take responsibility for their ongoing learning and growth, including enhancing the use of te reo and tikanga Māori.
AKO
A growth mindset is vital to allow our tamariki and kaiako to embrace all learning opportunities.
Life-long learning is about taking on challenges and learning from them, setting us up for success.
CULTURAL FOUNDATIONS
Te reo Māori and tikanga Māori is weaved into our everyday curriculum.  Cultural competence is a strength & tamariki will succeed in learning when we understand & respect their cultural roots.